Prominent high voltage cables market players include ZTT, NKT, Elsewedy, Prysmian, Sumitomo, Nexans, KEI, Taihan Electric, Gupta Power, APAR, ABB, KEC, Alfanar, Kelani Cables, Southwire and Riyadh Cables.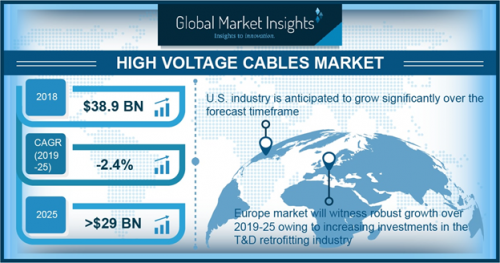 Selbyville, United States - July 22, 2019 /MarketersMedia/ —
The United States is one of the most lucrative regional grounds for high voltage cables market; indeed, the U.S. utility sector is a leading consumer of HV cables. The leading demand drivers in the region are favorable regulatory outlook for the expansion of utility sector, increasing use of renewable energy, and technological enhancements in grid infrastructure. For instance, 4,178 billion kilowatt-hours of electricity was generated in the United States in the year 2018, which positively impacted the regional demand for high voltage cables.
The rate of infrastructural development in developing nations like APAC regions is pushing the need to set up electrical connections which is directly proportional to the demand for high voltage cables markets. As per the report by United Nations Conference on Trade and Development (UNCTAD), the FDI inflow in developing nations was valued at $671 billion in 2017.
Request for a sample copy of this report @ https://www.gminsights.com/request-sample/detail/3376
High voltage cables market is projected to exceed USD 29 billion by 2025, claims the latest research report compiled by Global Market Insights, Inc. High voltage cables market is poised to attain substantial growth owing to the rising demand for transmission and distribution efficiency. The ongoing renovations in the electrical setup of industries and the need to develop a stronger electrical infrastructure in cities, is propelling the demand for high voltage cables.
The revenue from utility companies from South and Southeast Asian countries is set to rise by 4% from 2018 to 2020, owing to moderate economic growth, higher commodity prices, and government led infrastructural developments. This upsurge in utility revenue will positively influence high voltage cables market share in the future.
Many players in the utility sector are adapting to the changing requirements of the customers, such as by developing apps to give consumers control over their energy usage, monitor their electricity bills or receive outage alerts. These changes are adding a positive impetus to market growth. With the growing need for inexpensive energy, many providers are setting up newer electrical channels thus pushing the high voltage cables market size.
Make an inquiry for purchasing this report @ https://www.gminsights.com/inquiry-before-buying/3376
The refurbishment of the electrical infrastructure, requiring companies to resort to underground or overhead cable technologies is promoting high voltage cables market. In disaster prone APAC regions, often hit by cyclones or earthquakes, the government is resorting to underground cable channels. Along similar lines, in 2017, the Tamil Nadu Generation and Distribution Corporation made significant investment on underground cabling.
The benefit of underground cabling is that electric cables are buried deep inside therefore unaffected by calamities. The shifting of traditional wiring of electricity in cities to an underground mechanism will encourage the rapid adoption of high voltage cables.
Also, with underground high voltage cables there is a lower risk of electrocution, decreased voltage drops, reduced chances of power theft, and an aesthetical appeal. These advantages boost the need for high voltage cables.
High voltage cables market, in essence, is driven by the need to have an established infrastructural system. With its increasing use in water resources and other renewable energy industries, the demand for high voltage cables is gradually increasing with the rising need for systematic, economic, and safer mode of power transmission. Many companies today from developed and developing nations are venturing into the production of these cables realizing the fast-paced growth in high voltage cables market.
Browse Complete Summary of this report @ https://www.gminsights.com/industry-analysis/high-voltage-cables-market
Partial Table of Contents (ToC) of the report:
Chapter 4 High Voltage Cables Market, By Voltage
4.1 Global high voltage cables market share by voltage, 2018 & 2025
4.2 50 kV – 110 kV
4.2.1 Global market from 50 kV – 110 kV, 2014 - 2025
4.2.2 Global market from 50 kV – 110 kV, by region, 2014 - 2025
4.3 115 kV – 330 kV
4.3.1 Global market from 115 kV – 330 kV, 2014 - 2025
4.3.2 Global market from 115 kV – 330 kV, by region, 2014 - 2025
4.4 > 330 kV
4.4.1 Global market from > 330 kV, 2014 - 2025
4.4.2 Global market from > 330 kV, by region, 2014 - 2025
Chapter 5 High Voltage Cables Market, By Application
5.1 Global high voltage cables market share by application, 2018 & 2025
5.2 Utility
5.2.1 Global market from utility, 2014 - 2025
5.2.2 Global market from utility, by region, 2014 - 2025
5.3 Industrial
5.3.1 Global market from industrial, 2014 - 2025
5.3.2 Global market from industrial, by region, 2014 - 2025
Chapter 6 High Voltage Cables Market, By Region
6.1 Global high voltage cables market share by region, 2018 & 2025
6.2 North America
6.2.1 North America market, 2014 - 2025
6.2.2 North America market by voltage, 2014 - 2025
6.2.3 North America market by application, 2014 - 2025
6.2.4 U.S.
6.2.4.1 U.S. market, 2014 - 2025
6.2.4.2 U.S. market by voltage, 2014 - 2025
6.2.4.3 U.S. market by application, 2014 - 2025
6.2.5 Canada
6.2.5.1 Canada market, 2014 - 2025
6.2.5.2 Canada market by voltage, 2014 - 2025
6.2.5.3 Canada market by application, 2014 - 2025
6.2.6 Mexico
6.2.6.1 Mexico market, 2014 - 2025
6.2.6.2 Mexico market by voltage, 2014 - 2025
6.2.6.3 Mexico market by application, 2014 - 2025
Browse complete table of content of this report @ https://www.gminsights.com/toc/detail/high-voltage-cables-market
Related Report:
Flexible AC Transmission Systems Market 2019-2025
https://www.marketwatch.com/press-release/flexible-ac-transmission-systems-market-2019-industry-size-trends-and-growth-by-2025-2019-07-18
Distribution Transformer Market 2019-2025
https://www.marketwatch.com/press-release/distribution-transformer-market-2019-business-growth-trend-and-forecast-2024-2019-07-18
Contact Info:
Name: Arun Hegde
Email: Send Email
Organization: Global Market Insights, Inc.
Website: https://www.gminsights.com/pressrelease/hv-cables-market
Source URL: https://marketersmedia.com/high-voltage-cables-market-2019-insights-and-forecast-research-report-2025/88899435
Source: MarketersMedia
Release ID: 88899435